Allergy
Allergies are a very common overreaction of the immune system to usually harmless substances. when a person with an allergy comes into contact with an allergen, the allergic reaction is not immediate. The immune system gradually builds up sensitivity to the substance before overreacting.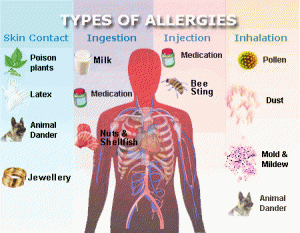 The immune system needs time to recognize and remember the allergen. As it becomes sensitive to the substance, the immune system starts making antibodies to attack it. This process is called sensitization.
Sensitization can take a few days or several years. In many cases, the sensitization process is not completed. The patient experiences some symptoms but not a full allergy.
Allergies may also be seasonal. For example, hay fever symptoms can peak between April and May, as the pollen count in the air is much higher.
sneezing and an itchy, runny or blocked nose (allergic rhinitis)
itchy, red, watering eyes (conjunctivitis)
wheezing, chest tightness, shortness of breath and a cough
a raised, itchy, red rash (hives)
swollen lips, tongue, eyes or face
tummy pain, feeling sick, vomiting or diarrhoea
dry, red and cracked skin
Allergy skin tests and testing standards
Allergy Blood Tests